Je suis tombé sur un Tweet qui parlait d'un challenge, j'ai cherché à le relever.
Saw the 30 day video game music challenge sorta trending and I wanted to try it myself, hopefully I don't forget a day :'v pic.twitter.com/fLorVFNlvw

— Saviro Zenu (@SaviroZenu) May 31, 2020
Voici l'image :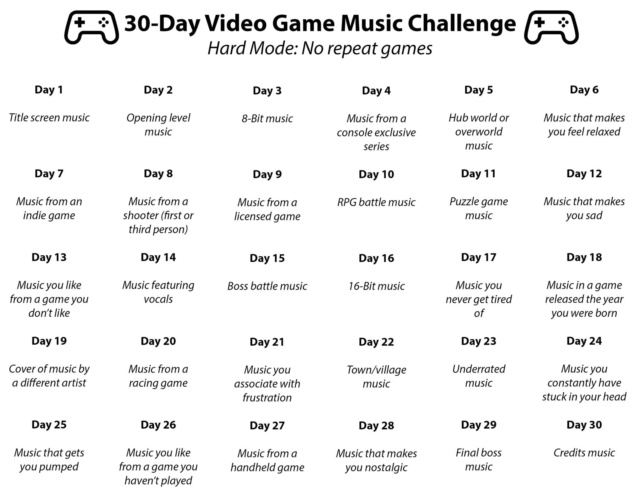 Il m'a fallu un peu de temps (je ne l'ai pas fait 1/jour) et en hard mode c'est encore plus compliqué.
Voici mes réponses en spoiler ainsi qu'une Playlist Youtube si vous voulez écouter facilement et rapidement.
| | |
| --- | --- |
| Challenge | Music |
| Title Screen music | Dragon's Crown (PS4) |
| Opening Level Music | Sonic - Green Hill Zone (MD) |
| 8 Bit Music | Final Soldier - Stage 6 (PCE) |
| Music from a console exclusive series | Demon's Crest - Beyond the Colosseum (SNES) |
| Hub world | World of Warcraft - Dalaran (PC) |
| Music that makes you feel relaxed | Mushihimesama Futari The Black Shell Beast King (Stage 4) (ARCADE) |
| Music from an indie game | Hotline Miami Moon Hydrogen (VITA) |
| Music from a shooter first or third | Halo Theme (XBOX) |
| Music from a licensed game | Witcher 3 Theme (XONE) |
| RPG Battle Music | Zelda 3 Boss Theme (SNES) |
| Puzzle Game Music | Twinkle Star Sprites - Sky Stage 1 (NG) |
| Music That makes you sad | Shadow of the Colossus opening (PS2) |
| Music you like from a game you don't like | Art of fFighting 2 - Mickey Theme (NG) |
| Music Featuring vocals | Street Fighter Third Strike OE - Knock you out (X360) |
| Boss Battle music | Fatal Fury - Geese Howard Theme (NG) |
| 16-Bit Music | Last Resort - Melting Point (Stage 4) (NG) |
| Music you never get tired of | Breakers - Sho Theme (NG) |
| Music in a game released the year you were born | Xevious (ARCADE) |
| Cover of music by a different artist | Smooth Mcgroove - Guile Theme (SNES) |
| Music from a racing game | Eric Prydz - Liberate Forza Horizon 2 (XONE) |
| Music you associate with frustration | Super Metroid - Plant Boss Theme (SNES) |
| Town / Village music | Phantasy Star 2 (MD) |
| Underrated Music | Andro Dunos - Stage 2 (NG) |
| Music you constantly have stuck in your head | Garou MOTW - Rock Theme (NG) |
| Music that gets you pumped | Real Bout 2 Fatal Fury - Kim Theme (NG) |
| Music you like from a game you haven't played | The Last of Us Theme (PS3) |
| Music from a handheld game | Super Mario Land (GB) |
| Music that makes you nostalgic | Golden Axe Stage 1 (MD) |
| Final Boss music | Fatal Fury Special Krauser Theme (NG) |
| Credits music | Ori and The Blind Forest (XONE) |
Le modèle
Si vous voulez tenter l'aventure, voici le template :
| | |
| --- | --- |
| Challenge | Music |
| Title Screen music | |
| Opening Level Music | |
| 8 Bit Music | |
| Music from a console exclusive series | |
| Hub world | |
| Music that makes you feel relaxed | |
| Music from an indie game | |
| Music from a shooter first or third | |
| Music from a licensed game | |
| RPG Battle Music | |
| Puzzle Game Music | |
| Music That makes you sad | |
| Music you like from a game you don't like | |
| Music Featuring vocals | |
| Boss Battle music | |
| 16-Bit Music | |
| Music you never get tired of | |
| Music in a game released the year you were born | |
| Cover of music by a different artist | |
| Music from a racing game | |
| Music you associate with frustration | |
| Town / Village music | |
| Underrated Music | |
| Music you constantly have stuck in your head | |
| Music that gets you pumped | |
| Music you like from a game you haven't played | |
| Music from a handheld game | |
| Music that makes you nostalgic | |
| Final Boss music | |
| Credits music | |
Sujets similaires
---
Permission de ce forum:
Vous
ne pouvez pas
répondre aux sujets dans ce forum